Although myself and my boyfriend would NOT fall into this category, it has to be said, some people just don't like cakes! So what do you do if you don't like cakes and you feel the pressure of convention to get a wedding cake for your guests which you won't even nibble yourself? What do you do if you savour the savoury!? Here's some alternative ideas for this without a penchant for fondant!
1. For the carnivore
Photo credit: perfectpie.co.uk
If you love to eat meat, and don't think your wedding reception roast is enough, why not have a wedding pork pie tower! These can be bought from www.perfectpie.co.uk
2. For the sushi lover a.k.a me
I must say, I only found this idea in the process of searching for photos for this article, and I have already sent it to my boyfriend as clearly this is what we're having on our wedding day!!! I'm not even sure if you can get this in England, but I bet some sushi chef out there would be well up for the challenge!
3. For the Wimbledon fans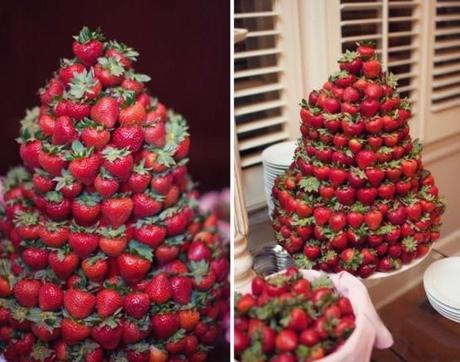 With Wimbledon just gone, how appropriate would it be to have a strawberry tower?! Also great for those who are on a health bender/diet, and easily to potentially create yourself!
4. For the seafarer in your oceanic soul
photo credit: struckmansculptureice.com
A shrimp tower, with a lobster plonked on top, naturally. Seems weird but this would go down extremely well at a Chinese wedding.
5. For the lovers of not-cakes-but-pancakes
The upsides of a pancake tower:
1. You can make it as comically tall as you want
2. You can still dress it up to look fairly elegant
3. You can have whatever fillings you want in between, and choose to go lemon and sugar or spinach and mushroom, that's the beauty of a crepe!
How many more reasons could you need?!?
What do you think of these alternatives to wedding cakes? Would you have any of them or got any better ideas? Let me know in the comments below!