As some of you will know, I have been away in India for the whole of November shooting for the charity 2Bears to provide them with photos for their website and volunteer brochures. 2Bears is a charity run by brother and sister Julia and Gavin and I was asked to come along by Julia whose Rolling Stones themed wedding I shot back in 2013 (it was my first feature on Rock n roll bride!). I shared a few phone snaps across the trip and a few people said they'd be interested in seeing a blog post about the whole trip so here I am obliging the masses!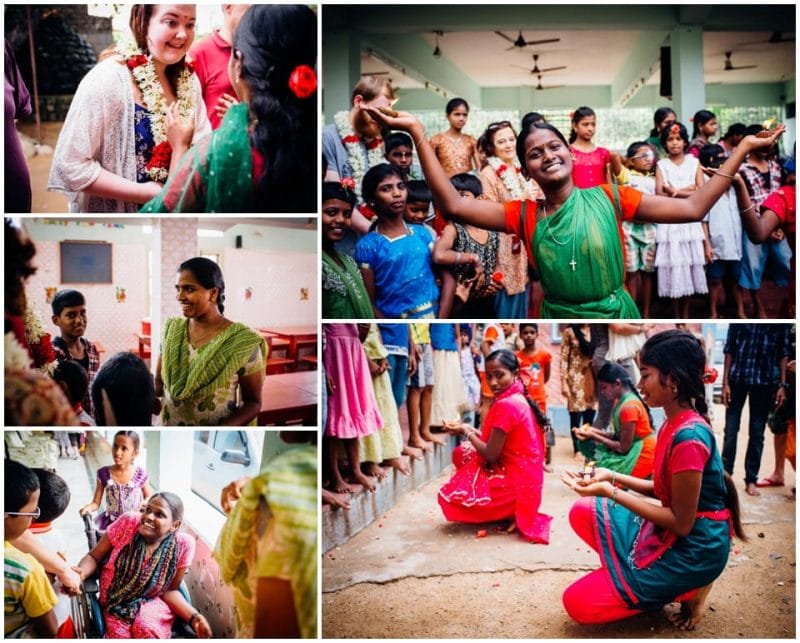 The purpose of the trip was for 2Bears fundraisers to visit the children their money went to, so we started our journey at an orphanage in Chennai called Prema Vasam. Prema Vasam was started by a man called Selvyn who found a dying abandoned child (later named Prem, the orphanage Prema Vasam is named after Prem) and decided in that moment he would not marry or have his own children, instead he would look after abandoned children around Chennai. Some of the children are able bodied but many have disabilities, which is often the reason for their abandonment. When we visited, the orphanage housed just under 200 children with another 50 teenage boys at their centre for older boys. Selvyn was referred to as father by the kids (appa) whilst Miss Mumtaj was called amma, which is Tamil for mother. She works and lives 24/7 at the orphanage and has also dedicated her life to these children.

When we first arrived, we were instantly surrounded, read mobbed, by the kids (although I didn't understand the definition of mobbed until the last school we visited, read onto the last day for that!) greeted with jasmine garlands and some of the older girls performed a welcome dance. We were given a tour of the facilities which was really heartbreaking for everyone in the group. I'm not ashamed to say I welled up in Prem's room where the more severely disabled bed ridden children lay. We heard stories of two disabled girls whose fathers tried to murder them, I guess to avoid the burden of raising them, one of the girl's father fed her rice husks so she would choke. On the tour we learnt the stories of many of the kids, I really liked a boy called Puggal who had Down's syndrome, he was really smiley and gentle and was instantly really loveable.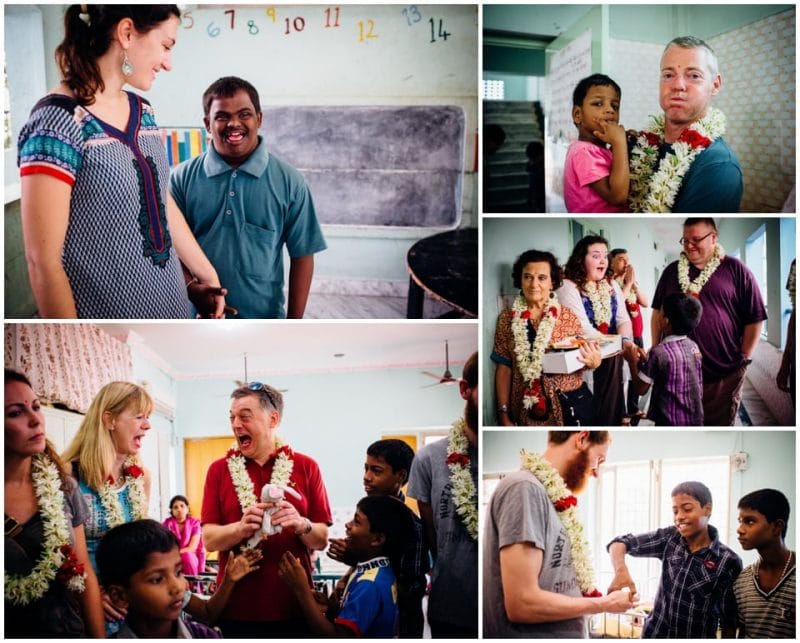 We had a little toy giving session in the lunch hall and Julia and Gavin received gifts of drawings of themselves drawn by Indra. Indra is a beautiful girl who was one of Selvyn's first students, she was depressed because she wasn't allowed to go to school so Selvyn decided to educate her and since then she has achieved top grades in her masters. However, instead of getting a paid job she decided to come back and work at the orphanage, which was living proof of how happy and important a place this home is to these children.
After this, we went to tiruvannamalai to visit the People's Craft Training Centre, the second cause that 2Bears donates to. Julia and Gavin lived and volunteered at the PCTC which is why they decided to start a UK registered charity so they could continue supporting it even after they left. PCTC is run by an inspirational man called Xavier whose wife makes a brilliant pumpkin curry! He is very much into promoting self sufficiency so a lot of his projects are not just about providing help, but providing the means for people to help themselves. For example, instead of just caring for the disabled children, he runs parent training classes to reduce stigma and educate parents in how to care for their disabled children so they can still lead a relatively normal life at home. Xavier also set up a business loan system for women to start their own businesses (mostly agricultural), and now it is self sustaining from it's own interest, helping more women to be self-sustaining, how great is that!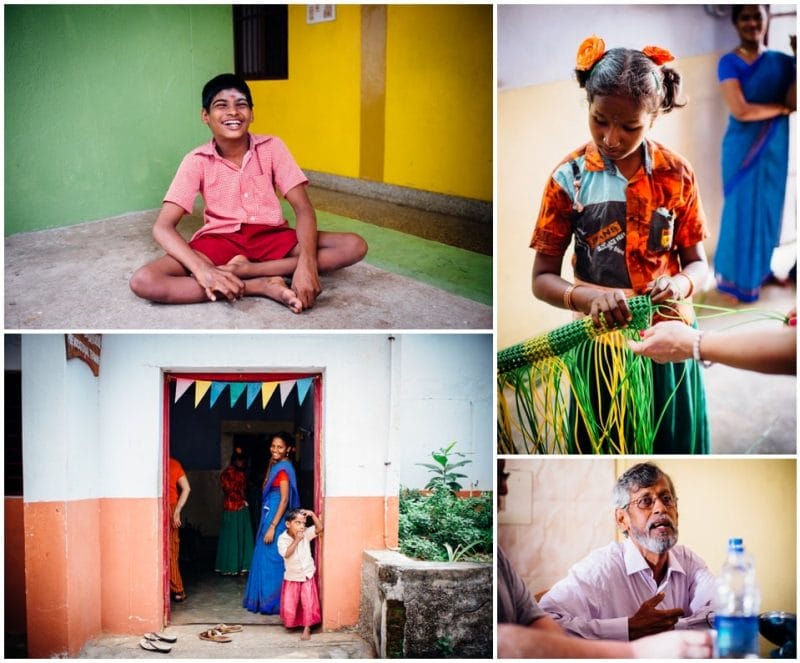 The previous year, 2Bears has raised enough money to provide over 40 wheelchairs that the families could take home and provide better posture support for their children, so when we visited we got to see a few of the wheelchairs being fitted and taken home!
We also visited the craft centre which provides Fairtrade quilts, pillow cases and other embroidered goods to be sold in the USA. Some of the disabled kids at the PCTC work in this craft centre so they can provide for themselves.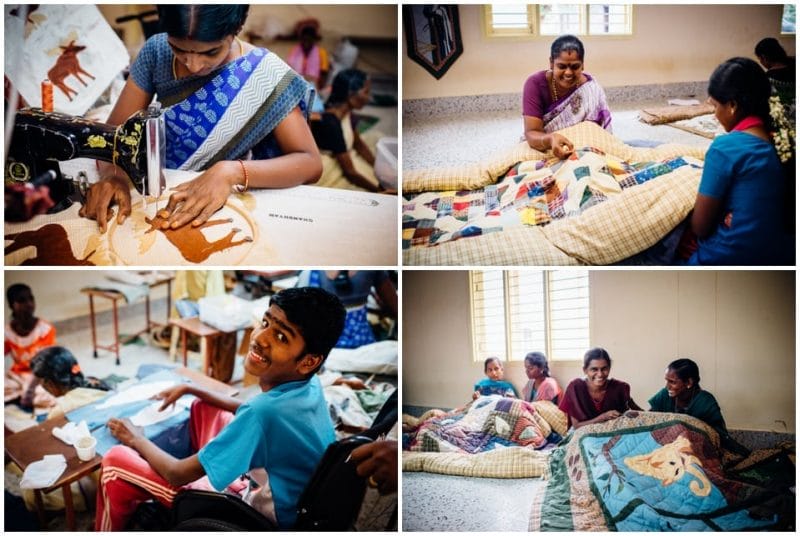 We also helped fix some of the standing and seated supports that needed resizing and reupholstering!
That night we went to visit some of the Thulirs that Xavier has set up in the villages. These are essentially night schools for the children to teach them extra English lessons, career guidance and extra skills specifically to increase their chances of employment. Xavier explained that children in the more rural villages don't have as many opportunities as the city kids and therefore find it harder to expect a future beyond working their parent's land. Amazingly, all it takes is £3500, which is less than the cost of a Nikon D4S, to be able to set up and indefinitely sustain one of these night schools. Putting £3500 into the bank generates enough interest to maintain the night school and it's teachers, so it's not just a case of building the school, an amount of money we take relatively for granted can keep giving for years and years. That was a really sobering thought for me, as a photographer who carries more than that amount in my everyday camera bag.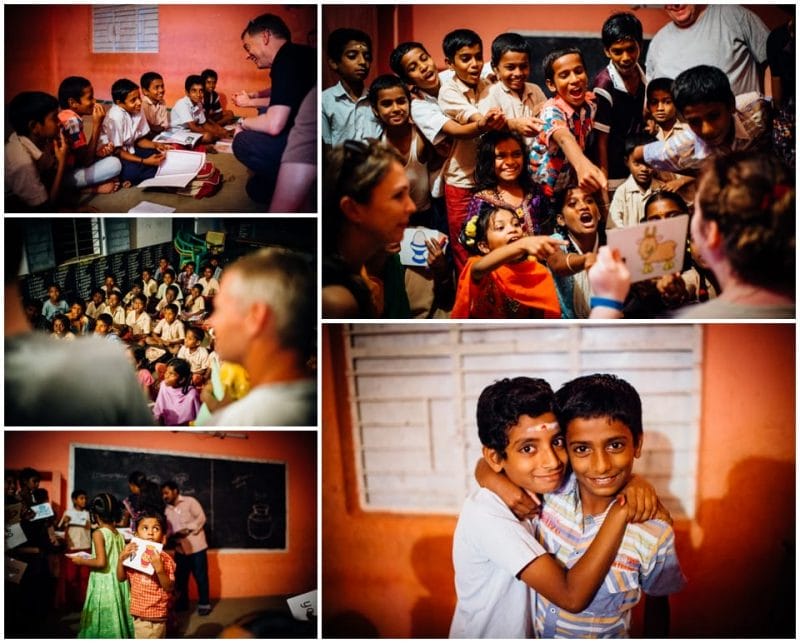 The next day, we cycled from that one centre to the second centre run by Xavier, it was a day school for disabled children and there we did an art project with the kids of making lovely bright peacock feathers!
We also planted some new trees and held a children's party where they taught us some of the games they love to play like Koko (a bit like linear duck duck goose)
After spending the day there, we went to visit some of the village homes of the PCTC students. It was really interesting to see how differently people lived. A family of 4 would live in a small hut with 2-3 rooms, and they were considered to have a nicer house compared to others even though their whole house could fit in a middle class living room.
On the final day of the charity trip we went to visit Xavier's wife's school where she teaches. All the able bodied children from the local villages attend this school and we were supposed to run a few classes. However, it turned into more a Justin Bieber experience where we got mobbed for photos and every kid wanted us to come and see their classroom. Interestingly, the boys were much bolder and cheekier (I got at least 3 proposals and one 15 year old, when I pointed out to him who my boyfriend was, gave him the stink eye and said "REALLY?!" Hahahaha) than the girls who were much shyer and did not like to smile for photos.
That brought us to the end of what was an incredible, life changing experience. It really make me rethink how much excess and luxury we have, how we have so much yet often moan about the littlest things. I also learnt that it's important to spend time with people in person, the Internet and things like social media don't really make up for taking the time to connect with others face to face. On the flip side, I also learnt to appreciate the joys of being able to simply put used toilet paper into the toilet bowl, rather than having to search for a pedal bin, and also how it is possible to get clean with minimal amounts of cold water compared to a blasting power shower. I want to take this moment to thank Julia and Gavin for having me along on this trip, I enjoyed it so much, before I went India was always on my bucket list and we went so far far off the beaten tourist track and really saw everyday life in India for a wide range of children. And I got to eat awesome pumpkin curry at Xavier's and learn about social issues in India from someone who really knows.

If you've enjoyed these photos and are interested in donating to the Prema Vasam orphanage and the PCTC, and possibly going on this trip and meeting all these children and amazing caring adults for yourself, visit the 2Bears website and get involved!! They are a small charity but in a way that makes it so much better, you know exactly where the money is going and you know it really makes a difference to people's lives! It's so easy to think that we can't do enough to make a difference, but as little as £30 can buy a wheelchair for a child, £250 can provide a toilet for a woman with a disability and £1500 can buy an indoor playroom where disabled children can develop their motor skills, please do click here and consider getting involved!
Before I went to India, everyone told me I'd love it there because there were so many things to take photos of, the colours are amazing, the people are beautiful everyone said! When I got there, I found that this really was the case, I could've spent the trip constantly taking photos, but I realised that if anything that highlights the importance of NOT living your life through a viewfinder and instead being in the moment, enjoying every experience to its fullest. I already am the kind of person who won't take any photos at gigs, but this trip really cemented it for me that although I didn't take lots of shots, instead I'll remember each of those "frames" as photographic-worthy memories that I really noticed and enjoyed. I think at weddings, too many guests spend time videoing or taking photos of the action, and sometimes I wish I could say "hey don't worry, I'm here to capture these moments for you, so you don't have to".
As a result I'll leave you with a few shots that I feel beautifully sum up my time in both extreme rural and urban India, a country where humans and animals (especially cows, cows everywhereeee on the roads and beaches!) live harmoniously.
Telephone lines through the agricultural land. Everyone has a mobile phone no matter how poor.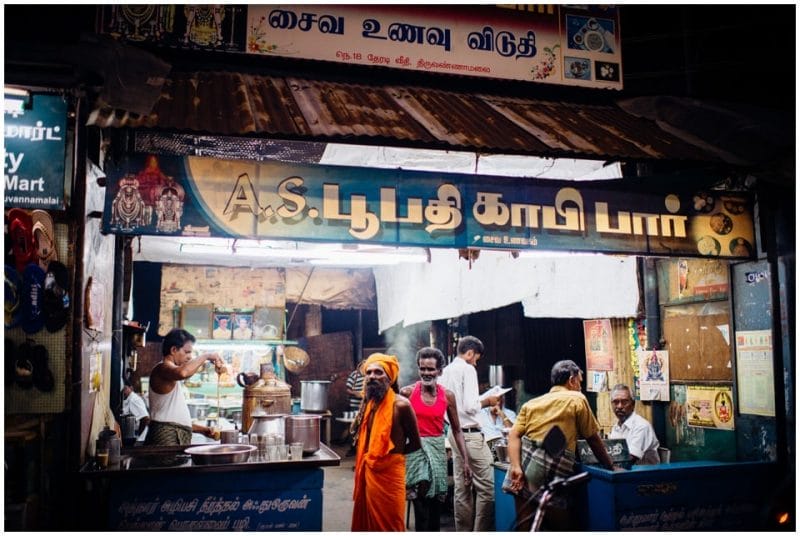 Tea brewing in the city.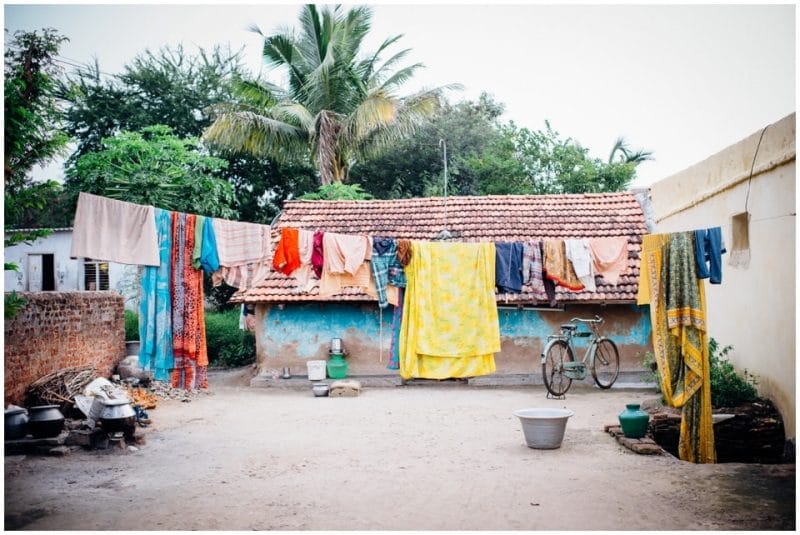 An Indian Villager's essential possessions all in one shot.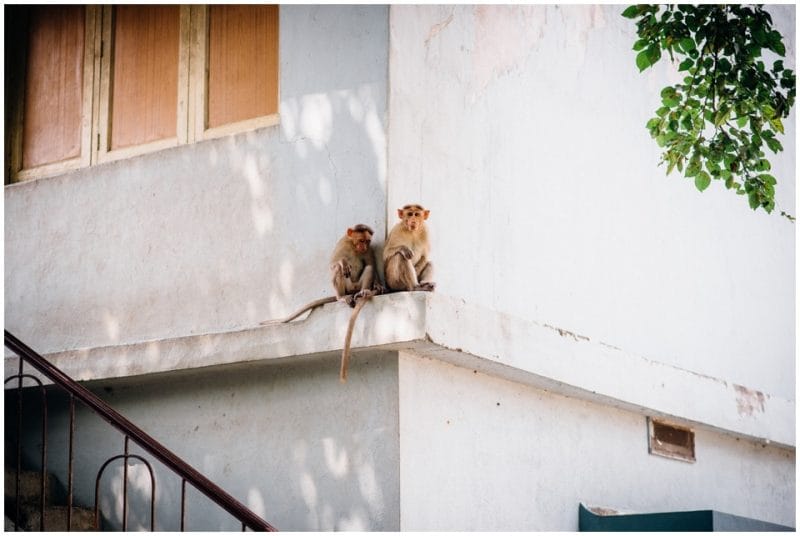 Monkeys- both Gods and pests.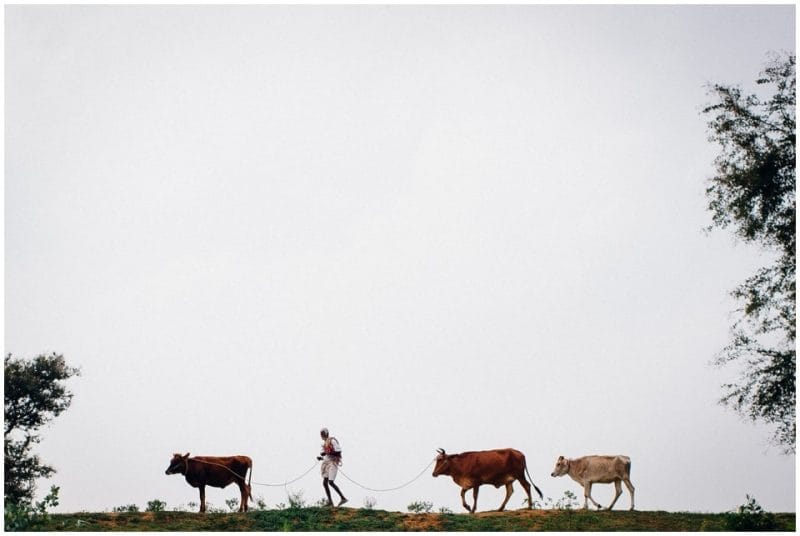 3 in a million cows