So, I'm one of those people where when I want something, I do all the in depth research it takes to achieve it (call it an ex-PhD thing) and recently I was on a mission for a serious photographer's backpack that didn't look like I worked in a finance department in the bloody city. I feel like lots of the stylish/attractive options around were impractical (yeah Kelly Moore, I DO need to carry a back up body and three speedlights and wireless triggers, one body and two lenses ain't gettin' me nowehere!), and a lot of the practical options were... ugly as heck. Through the mystical powers of google image search, I managed to locate this small Canadian company (I say small because I think they're mostly producing from kickstarter campaigns), who don't specialise in camera bags but had this CamPro bag in their range.
Let me just pause and say that the reason my hunt was so difficult was because I was specifically looking for a back pack a.k.a rucksack, having been a Billingham 335 for years. I love my Billingham and I will not fault their design, style or quality, but after a friend developed back injuries on the job, I realised I needed to be more sensible and get something that was healthier in the long term. If you want a shoulder bag, go for a Billy, it will love you for 20 years, but if you also need to start two strapping like the cool kids, read on.
I ordered the Venque CamPro bag in grey because I thought it looked nice against the tan leather detail, but they also stock it in black. It cost 218USD including shipping to the UK which took about a week.
Let's start with the outside first impressions, the zips are standard and the leather is smooth- I'm not sure what the main body material is, it has a canvas look but I think from their website it seems to be treated for weather resistance. It has a front 'ipad pocket' before the padded bottom half that comes with movable velcro inserts. Both sides are flanked with rather flat pockets (wish they'd made them a bit deeper) and there's a top half pouch. The top and bottom half sections are divided by a zipped base, bit like a camping rucksack, so you can keep it in two halves or convert it into one large rucksack.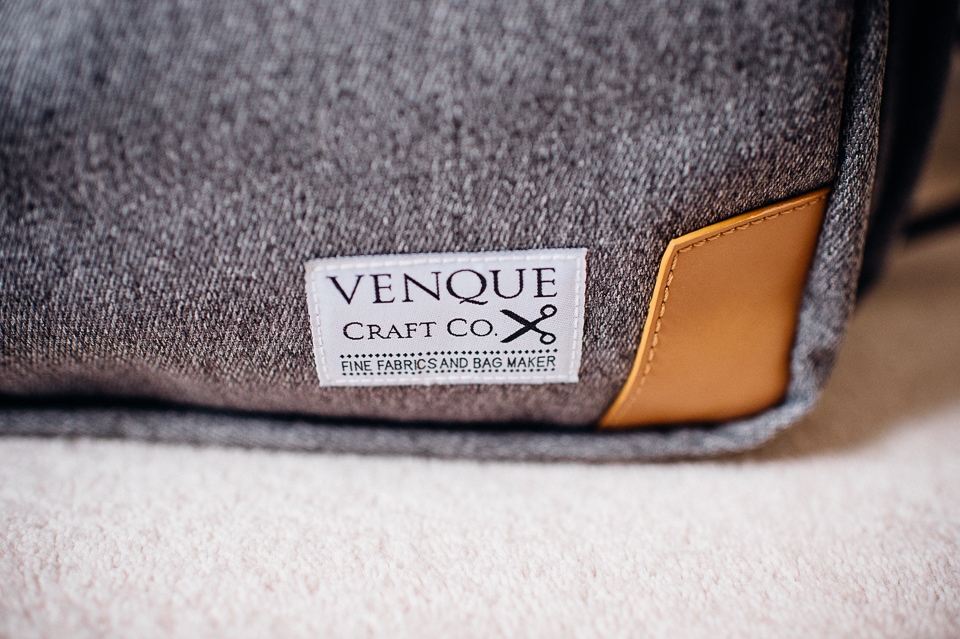 One thing I thought to myself when I placed the order was 'it'd be a good idea for them to have a waist strap' as they DON'T show this in the website photos. Amazingly they read my mind and the bag does actually dome with a waist strap and chest strap, so if you're city based like me and need to carry your gear on longer walking distances it is actually pretty practical. Both the back and straps are padded as well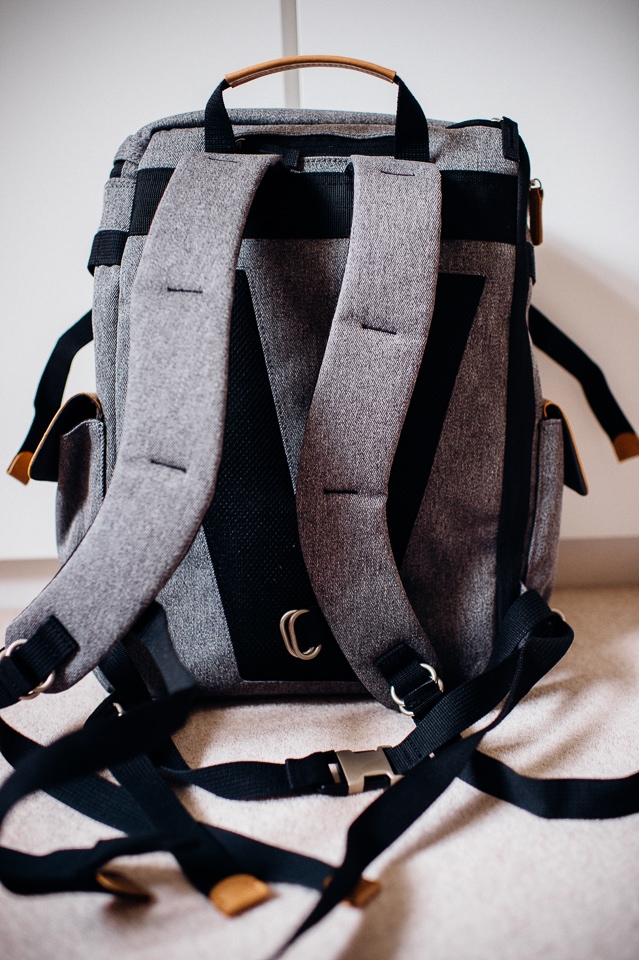 Moving to the storage options, the ipad pocket comes with a few pen and card slots, personally I'd chuck my valuables in there for easy access, it closes with a zipper and magnetic poppers
The bottom half of the equipment section is big enough to fit two bodies and two primes if you unmount them, or in my case I opted to have one unmounted, one mounted. I shoot 2x Nikon df and a 35 1.4 and 85 1.8 live in here (the df and 35 1.4 are taking the photo obviously), and I've chosen to store my triggers in the leftover space. What's good about this bag is that because of the malleable material, I can pack is so the df body juts out a bit beyond the zipper line, but there's enough give in the material to comfortably close it! You can choose to arrange those dividers however you like obviously!
In the top section I've opted to store 3 x sb800/700, 20 1.8, my rocket blower and battery bag. Note how there is a lot of height room left compared to the speedlight- so you could get your zooms in here I reckon (I shoot with 20/35/85 primes).
In the top flap of the top pocket there's also a zipper which I decided was ideal for quick grab of my thinktank pocket rocket memory card holders
There's also surplus storage which I haven't quite delegated objects to yet in the form of the laptop back pocket and the side pockets (purse shown for size indicator, it is long enough to fit that in nicely!)
There are also tripod loops on the base, which you can remove if you aren't planning to carry a tripod and don't want too much jingly jangly
I haven't road tested it yet, so I can't vouch for the build quality but I will come back and update this review in a few months time. My first impressions are that it makes my kit infinitely lighter, I can actually jog with my full kit on, so I am already miles happier! It can fit a full wedding prime shooter's lot in, I haven't even maxed out the space yet and actually at 218usd it's not even that pricey compared to some of the bigger brands.