---
Hello there, welcome to my little home on the tinterweb!
This is me and my face out and about on the job for identification purposes:
Bits about me:
I was a student writer for Lomography, I shot events for them like music festivals!
I now shoot for Secret Cinema, covering productions including Wes Anderson's Grand Budapest Hotel, Back To The Future, Amy, Star Wars, Dirty Dancing, 28 Days Later, Moulin Rouge, Bladerunner and Romeo and Juliet.
As well as gandering about as a press/wedding/event/music photographer, I have a PhD in Psychology, which means I can definitely read your mind.
My favourite junction is junction 16 between the M25 and M40 (because it's like NASCAR) and my favourite stretch of motorway is junction 2-6 on the M1.
I run a marathon in 3 hours and 35 mins.
I like to spend my free time wiki-ing horror film synopses because I enjoy the plot twists you only get in that genre, but I'm too chicken shit to actually watch the films.
I like bats
Donna Tartt wrote both my number one and number two favourite books of all time!
My other hobbies include pretending I'm Mo Farah when I run, playing 8 hours of board games at a time and basically attending as many live experience escape games/theatre as I can afford.
My dream retirement plan is to become a fishmonger.
My Brompton bike is called Brompt, my road bike is called Big Blue.
I have a fascinator in the shape of my logo that I wear to every shoot. That was your official warning. This doesn't happen anymore, my friend sat on it in my car! If anyone works in millinery and wants to work with me on a new design feel free to get in touch!
The gif that best sums me up is…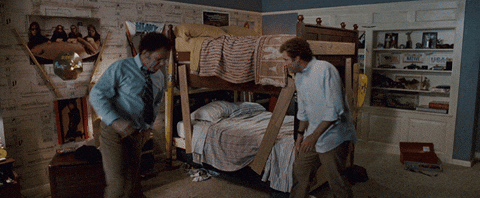 Some horn tootin':
Exciting news for the Fujifilm line-up today – the new X-T30 is now available to buy!

Posted by FUJIFILM X UK on Wednesday, 20 March 2019
I'm an Official Fujifilm X-Photographer, one of only three wedding photographers in the UK! I'm the UK face of the Fujifilm X-T30, listen to my awkward AF giggle in that video…
I'm a Rangefinder 30 Rising Star of wedding photography 2017!
I'm one of the top 10 quirky and creative wedding photographers and top 50 wedding photographers in the UK!
I have been a judge for the 30th round of the Wedding Photography Select competition. I have also been a judge for the This Is Reportage  photography competition.
I'm a three time Fearless Photographers award winner, which celebrates the best and most daring photojournalists in the world.
Professional Photo magazine's Rising Star of Wedding Photography 2016.
Shortlisted for Rangefinder's 30 Rising Stars of Wedding Photography 2015- Two peer nominations for the best 30 new photographers in the whole world!
I've won a photography Excellence award from Wedding Photography Select.
I've been part of an exhibition in the Museum of London.
Been published in print and online (The Guardian, Positive News, Shortlist). 
Accredited for huge music festivals, photographing the likes of Florence and the Machine and Stevie Wonder.
Winning a national event photography competition hosted by Blackberry and Capital FM.
Personal work looks a little bit like this and this.