Years ago I once had a dream that I was running across the top of a fast moving train, with hundreds of World War Z style zombies (i.e. the fast ones) behind me.
I was trying to get back to a huddle of the last of the human survivors. When I got to their stronghold, I saw that they were preparing to fire a rocket launcher at the zombies and I knew immediately that it was a lost cause and they were all screwed.
I ran up flights of stairs and corridors searching for my partner J, to tell him we needed to escape.
As I was running I felt aware we might not even have enough time to get out, but it never crossed my mind to leave without him. I was running through these corridors totally determined, because I had an overwhelming feeling that even if we were the only two humans left in a totally barren post-apocalyptic world, that was enough for me.
At that point in the dream I woke up (yes I know, annoyingly I never reached him!) and that was the moment I knew I was in love with the person lying next to me.
I've never felt like our relationship looks like the romantic movies, but that certainty I experienced in my dream taught me that we have something valuable.
Our love is shown through the unprompted swapping of a piece of fried chicken across the table at KFC because he knows which is my favourite. It looks like 11 years of consistently shouting "You oookkkk mate?" whenever you stub your toe on the door frame and squeal, even though they already know you're ok because you kick that doorframe an average of twice a week. Even though that door never moves.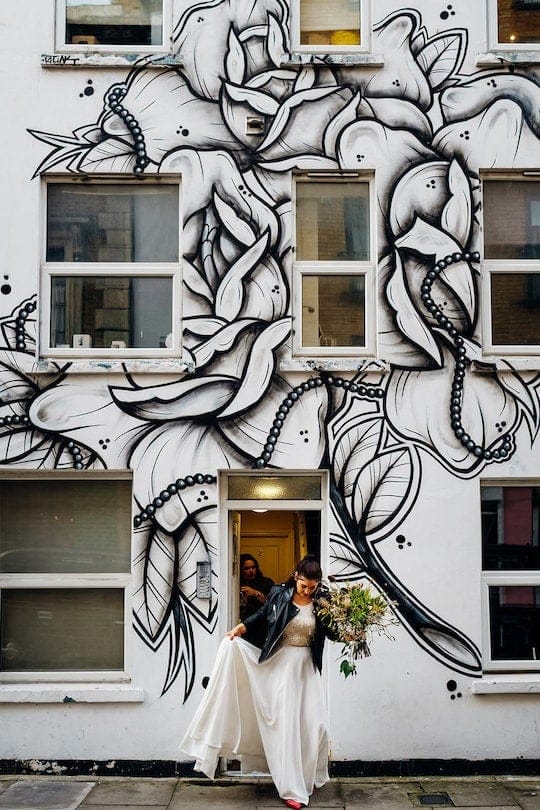 To me love is shown through these small gestures that look like nothing to the outside world, but carry deeper meanings between you.
These in-jokes, that secret history, that exciting familiarity, just you guys being you guys.
This is the real unfiltered, love story I want to capture.
I'm simply a photographer of people doing life, and weddings happen to be a (particularly exciting) part of that.
So my aim is never to just shoot your wedding. My goal is to capture unique moments that show your personalities, your emotions and everything else. I believe that focusing on you as individuals creates meaningful memories that go beyond that bog standard wedding photography
So big or small, let's make epic memories
and keep your special day all about
There's not just one person you love at your wedding, the odds are you care about everyone you've invited that day. That's why I'm going to give you an unrivalled account of your whole wedding party just being insanely happy and joyful.
I also get an extra kick out of delivering photos of things you weren't even there for so when you open your album you'll be able to say things like "Oh that's when auntie Wendy laughed so hard she got the hiccups!" and "WAIT whhhaaattttt, when did that happen!?".
I don't want you to spend hours away from your guests, so I keep posed, formal shots to a minimum. When I do shoot them at your request, I have strategies to keep them short and sweet so they have the minimum impact on your canapé nomming / champagne guzzling.
You aren't a stereotype, so I won't prescribe stock poses to you. Instead my flexible approach to 'couple shots' is to focus on your personalities and how you naturally interact.
That way you'll always get photos you're proud to share and have a comfortable experience being photographed, no matter how camera-phobic you are.
I'd say 95% of my couples tell me beforehand that at least one of them hates having their photo taken, and don't they all still look like they're having the bestest time?!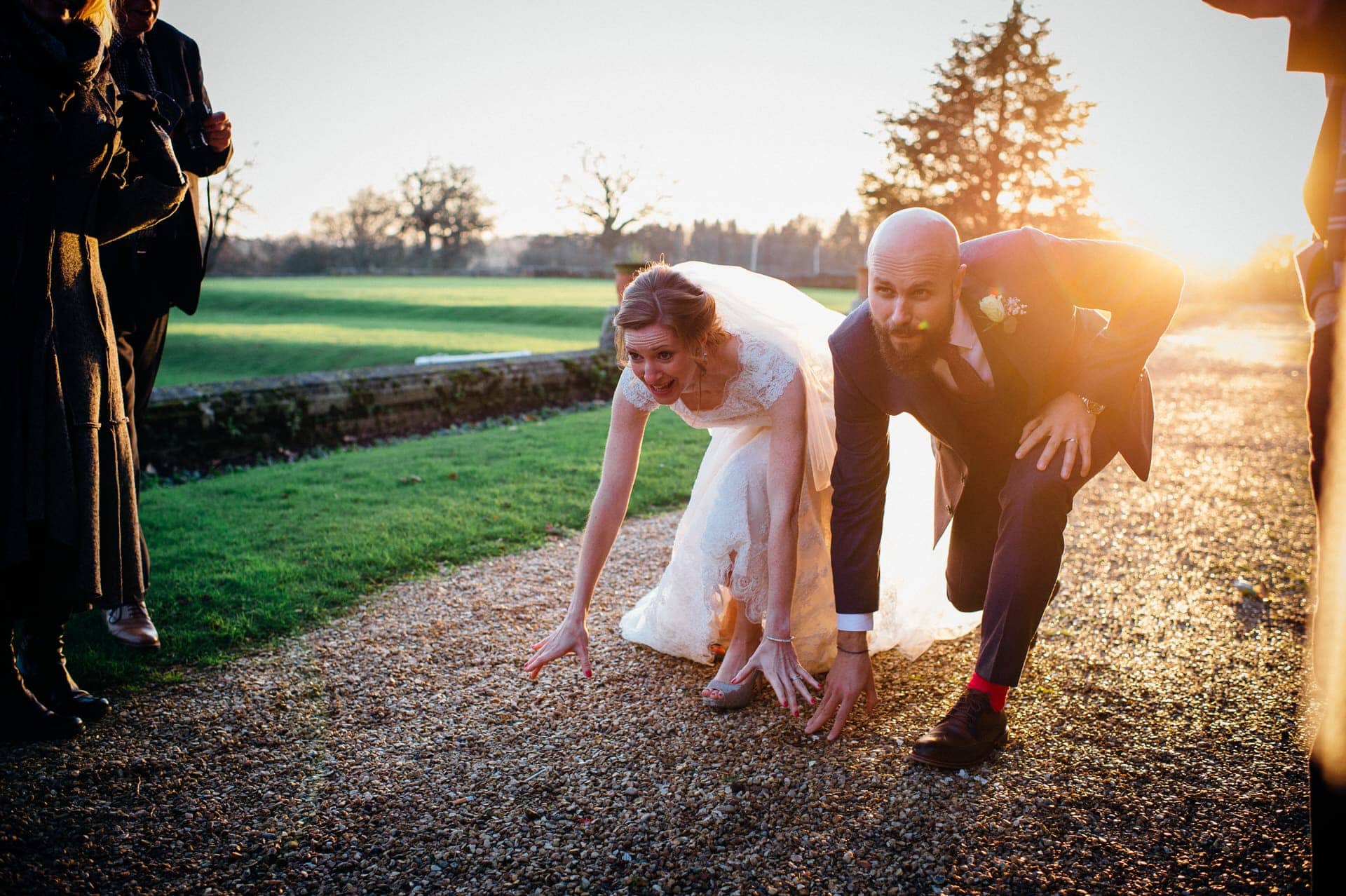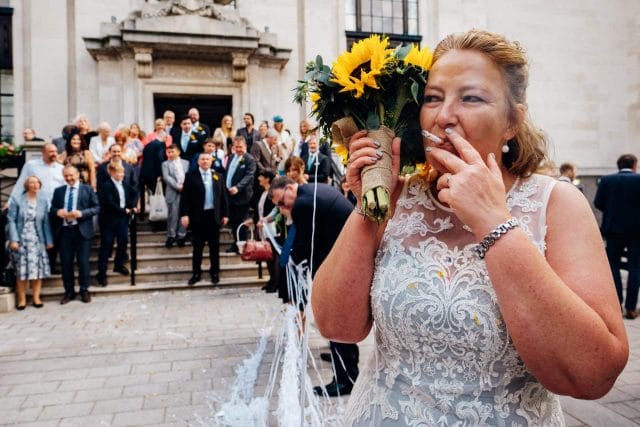 NATURAL, ARTISTIC & UNIQUE
To get the best natural wedding photos all you need to do is carry on and ignore me whilst I pop up in all sorts of random places (it works because I'm small). The biggest compliment I can get from a client is "we didn't even notice you taking that photo".
The sorts of things my camera and I squirrel out are great facial expressions in response to the bride doing the worm, the mother trying to hide her waterfall of tears under her big hat and the friend with a nostril-tastic snorty laugh.
Aesthetically, my style emphasises bright, natural colours and my love of lines, shapes and symmetry give my award-winning work a more thoughtful, creative perspective of your day.
On personal principle I'm not keen on airbrushing and selfie filters, so I won't be adding on a new layer of makeup in photoshop or giving you a digital nose job, sorry!
Everyone is individual and different and I believe in celebrating that. 
I genuinely enjoy experiencing all the diverse ways people choose to express their love and commitment, so from pygmy goat ceremonies to having your dad conduct the ceremony to being thrown around in the air, I'm ready for whatever you have planned!
"We may have to just become everything we hate"
We always said we'd never be the kind of people who have their wedding photos blown up on a big canvas but, having seen that, I'm afraid we may have to just become everything we hate….I've also discovered several new facial expressions I didn't know I possessed, which is pretty impressive! ; ) You are super talented and just plain smashing. Thank you times infinity. You're a f**king legend.
"A feat not short of miraculous"
Oh my God, Marianne. The photos. I am speechless. They are incredible. It's such a credit to you that you managed to make two of the most un-photogenic human specimens on this planet look not just photographable but actually pretty damn FLY is a feat not short of miraculous. The pictures are just so, so beautiful. You made us feel so relaxed and it was just an absolute pleasure to be shot by you.
"You were so friendly and likeable that many assumed you were just one of our mates!"
We just wanted to thank you for a fantastic effort on saturday. You made us both feel so comfortable and at-ease from the very first moment the photographing started, and a huge number of our guests told us that very same thing. You were so friendly and likeable that many assumed you were just one of our mates! What a total pro. I'm not sure how exactly, but every moment we thought "Oh, I hope Marianne caught that" you were somehow already there with the camera snapping away. Great job! We're really excited to see the photos, but even before we do, we wanted to thank you for helping to make our day really special.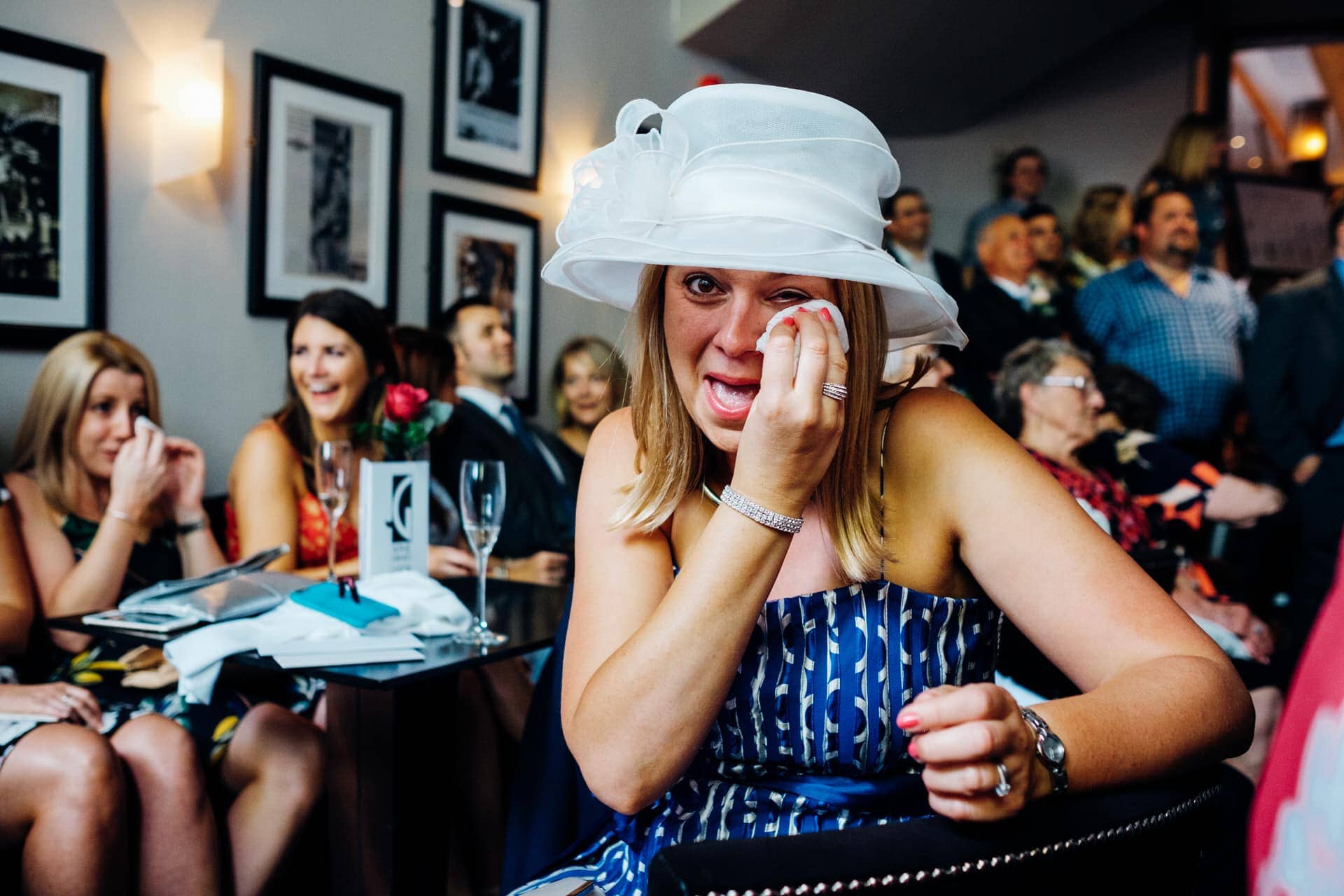 "I am laugh-crying at my desk."
OH MY GOD THEY'RE BRILLIANT!!!!! I am laugh-crying at my desk. Thank you Marianne. It's like re-living the whole day. Your composition is so beautiful. And you've caught so many hilarious moments.
"We couldn't be happier with our photos. They tell the exact story of our day"
Our photographer, Marianne, was just amazing! She was like one of our guests, fitted in perfectly and we didn't even know she was there. It was exactly what we wanted. She was so helpful throughout the morning, running flowers between us and the men. We couldn't be happier with our photos. They tell the exact story of our day.
"It really was like reliving the day again"
Marianne is truly brilliant. We have just had photos back, so much laughter and tears were had, it really was like reliving the day again. From the start Marianne was simply amazing, and on the day, Marianne feels like a friend (nearly every one of guests said this!). Every single guest has said how amazing our photos are, and they truly are. I'm really not sure what to say, if you could see my blubbering face you'd see just how happy I am with Marianne.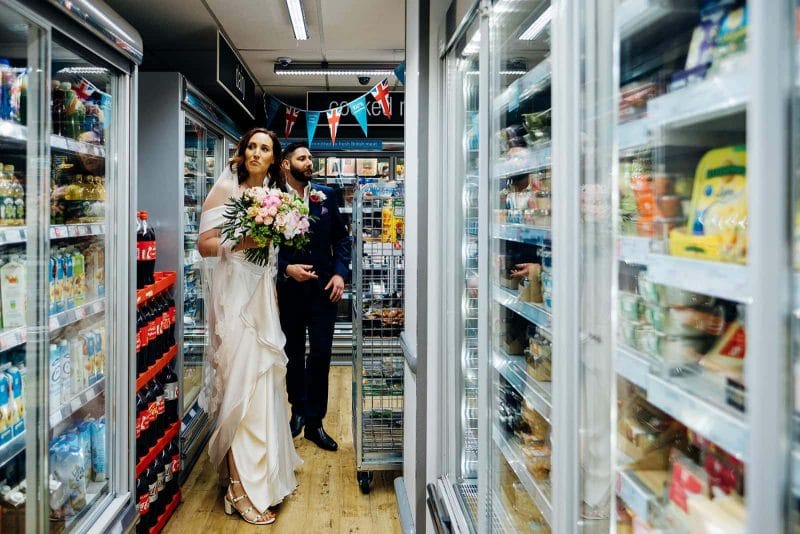 Become one of us, one of us, one of us…