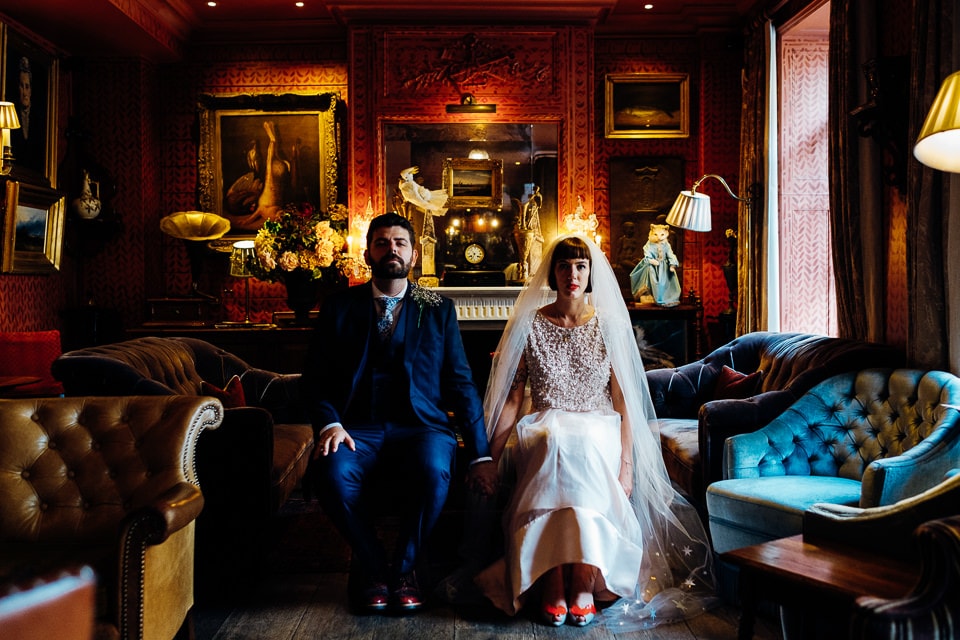 Steph and Dan are a very trendy and stylish couple who wanted to properly buck almost all the wedding traditions and have just an intimate wedding ceremony at the Islington Town Hall, a small dinner with friends and family at The Zetter Townhouse, before holding a big party at The Artisan of Clerkenwell. They also bucked the traditional norm by getting ready together in their flat, having a first look there before walking and catching the train and tube to their ceremony. Steph wore an amazing pink two piece wedding dress, a sequin top and Coast skirt. She also wore a leather jacket customised by her artist bridesmaid Simone, who painted Wife Life onto the back! Dan wore a blue suit with floral tie and sausage dog cufflinks because he loves sausage dogs!
I was very excited to shoot for these guys because I see my wedding photography style as telling a story, and by breaking all the timeline rules it gives me so many more novel moments to shoot, as silly as it sounds I'd always visualised a prep photo of both a bride and groom together, so pleased to finally add that to my portfolio!
(Supplier shout outs at the bottom)
Sadly Steph's beloved Nan and Aunt couldn't make the wedding so they were skyped in for the ceremony at Islington Town Hall so they could still be a big part of it.
After the ceremony they headed over to The Zetter Townhouse for an intimate dinner with friends and family in the Games Room.
After the dinner all the guests headed to The Artisan of Clerkenwell which is just next door, whilst Steph and Dan jumped in a taxi to The Renaissance Hotel in Kings Cross. It's Steph's favourite building in the whole of London, and they took the time to have a relaxed glass of Champagne just the two of them. I then joined them for some fun political chat as we're all very passionate about the recent election turmoil!
The Artisan, all their friends were waiting for them. they had laid out vegan doughnuts, a vegan buffet selection and decorated the space with a glitter table, a kissing booth and various colourful lanterns
They also decided instead of having a first dance they would have a first jaegertoast to open up the dancefloor. They also introduced the band who they had scheduled their wedding around, they heard this band play together early on in their relationship and knew they had to have them there. I was also flattered because I was the other supplier that they decided to schedule their wedding around! Eek!
Thank to Steph and Dan for being so so wonderful to shoot for and also for allowing me to indulge in my macabre Wes Anderson side! I had a blast :)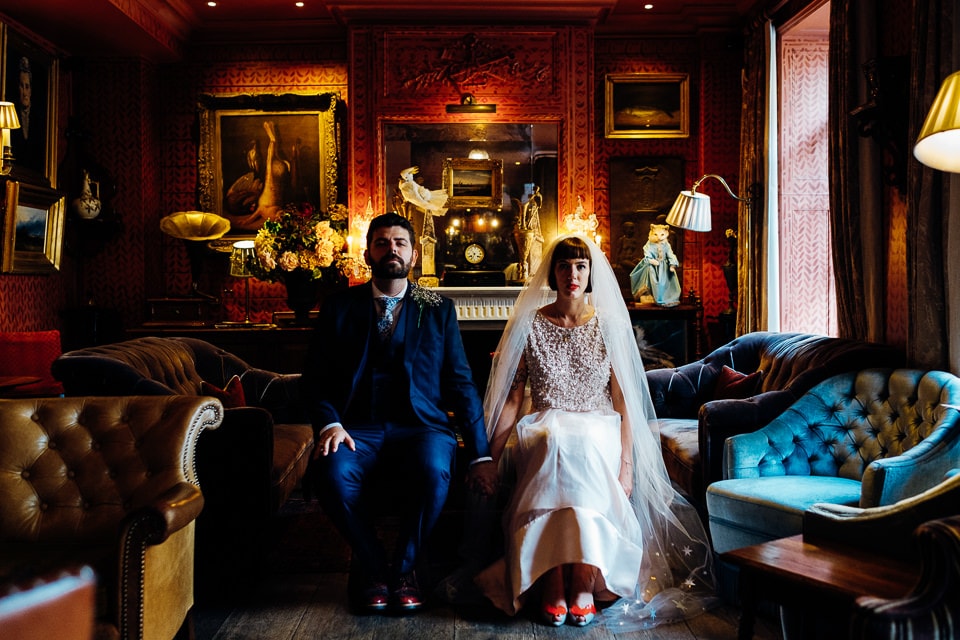 Big love to:
Lipstick and Curls on make up // Rubys of London on the vegan sugar hit // Coast on the dress // Beggars Run on the tailored suit // The Flower Lady on... flowers! // The Super Luckies on moosic