TriLens for Fujifilm
When I saw that Frii Design had finally released a Fujifilm mount lens holder, I was DE-lighted. I'd spotted their product yonks ago on a kickstarter type thingy and as a wedding photographer who shoots prime lenses I have always wanted not only a way to carry some extra lenses on me, but also a way to change them anywhere anytime. I mostly shoot my Fujifilm X-T3 dual body set up with a 23 1.4 and a 56 1.2 for most of the day, but I often need to reach for a 16 1.4 and the 90 2 during the wedding ceremony (an extra crucial time when it's hard to go to your kit bag) or speeches. Sometimes during couple photos I also need to take just one wide shot for a fab setting, but also want to primarily shoot with my usual fave two! I could carry a lens pouch but it's still a little bit fiddly in some ways, removing the lens from the pouch and shooting London weddings sometimes I don't have a surface to rest the kit on. Often I'm switching my lenses about on the floor, putting one down with the cap on, to then pick up the next. With my Spider Holster belt I have enough hooks and catches to do the whole switcheroo process standing!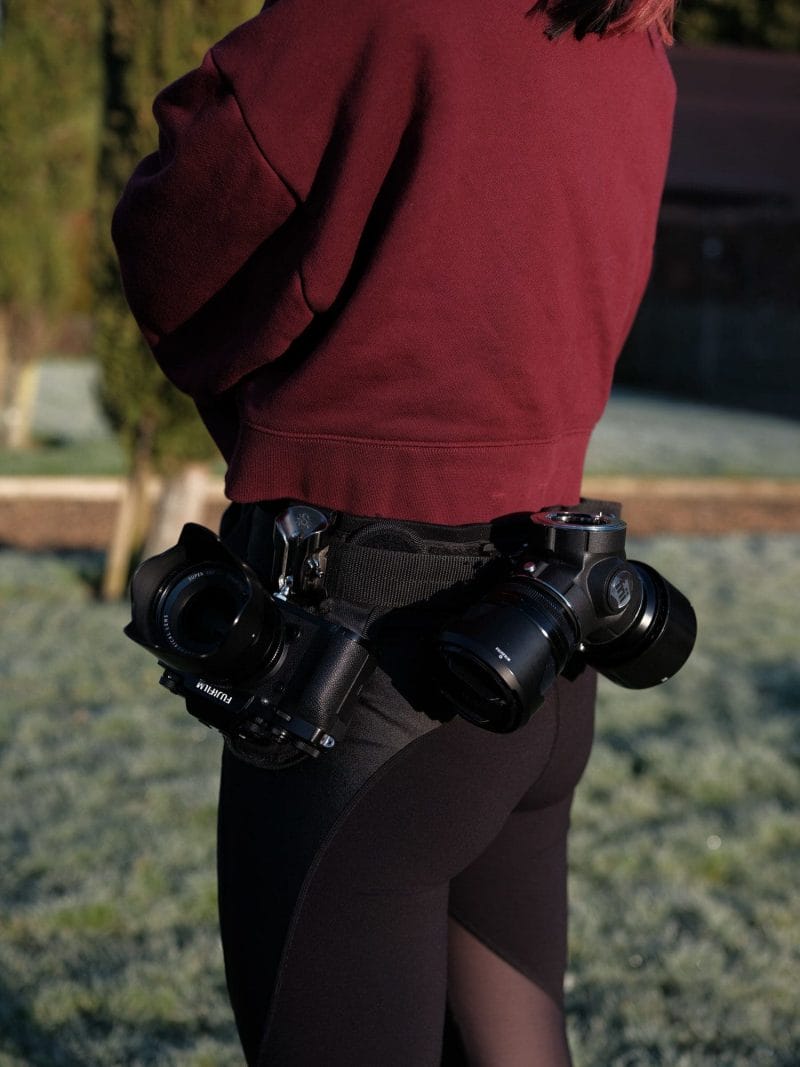 Using the TriLens with a Spider Holster belt
I've been using a dual Spider Holster belt since the dawn of time, and it was a big deal to me that the TriLens worked with my existing set up. Usually the TriLens holder is designed to sit on the hip, it slides onto a belt and  contains a panel that helps bear the weight of the lenses, however with the Spider Holster where either side of your hips are occupied with cameras, you've got to place the lens holder elsewhere. I figured the best place was to go just behind the camera pads, effectively round the back, and then if I wanted to do my lens change I can swivel it around my body further to the front to access the lenses. It's not ideal but it seemed like the best compromise. If you use a shoulder harness for your cameras, I guess you could attach the TriLens to any belt. Personally I'm a fan of keeping all the weight on the hips as it's significantly better for your back, but also gives you the chance to flail your arms in the air with more freedom, in case that need should arise at a wedding.
The first trick was going off piste from the instructions and attaching the TriLens to the Spider belt itself. At a first glance I thought this might be a struggle as the belt loop holes on the TriLens are narrower than the Spider belt padding. However I think worked out I could simply lift the top velcro part of the strap, and lock it in there, very fast, takes seconds to install and looks sturdy and safe.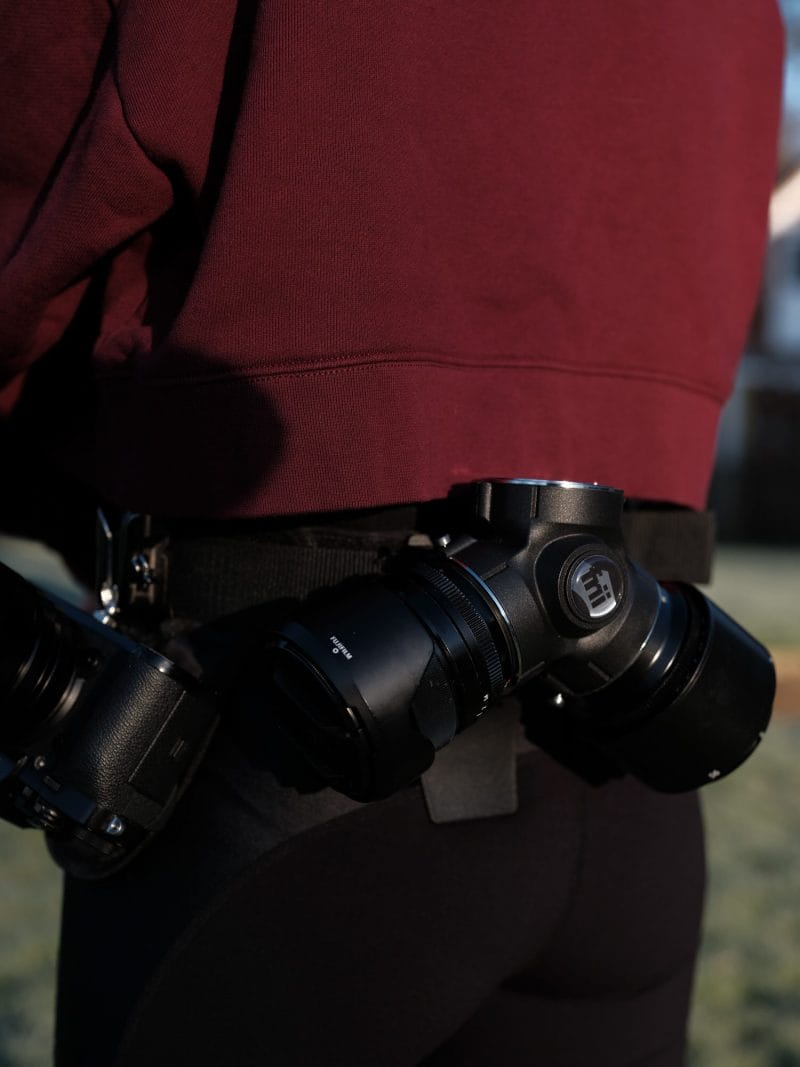 Using the TriLens holder
One thing I didn't twig until a friend pointed it out to me is about covering the sections you're not using. I didn't want to really bother with the end and lens caps as I felt it was just an extra item to carry on me whilst shooting, but make sure you do cap off the sections not in use otherwise they'll gather dust and crap… which will then transfer onto your lenses and then your sensor!!! I honestly think this is just a fab way to carry my extra lenses, I'm not longer needing to leave valuable kit on the floor or rush back to my camera bag. I have, just the one time, left a lens on a dresser in the bride's room at prep… gotten all the way to the ceremony venue before I realised my crucial 16 1.4 was missing and someone had to hot foot it back to the bride's house to fetch it! It'd be so great, as a prime shooter who is changing lenses a lot, to have everything I need with me to do my job more smoothly. It's dead easy putting the lenses on and off, they're locked in with a big strong pin that you slide back. Don't do what I did the first time and keep trying to push the pin IN- assuming it was stuck or stiff. It's just a gentle slide and you twist the lens out of the mount. Although it holds three lenses, I personally would like to use it with two lenses, to keep the third mount free to put the lens onto it from the body first. It's worth noting at that stage, I feel I'd need to naturally hook the body back onto the Spider Holster as you do need two hands to work the TriLens. I guess one day a one handed system for locking and removal would be amazing, although I don't know how that'd be engineered!
They also provide magnetic strips that you can attach to your lens caps so you never lose your caps- personally I'd carry my lenses around with the hood on uncapped and leave my lens caps in the bag, but it's a nice touch for those who might want it.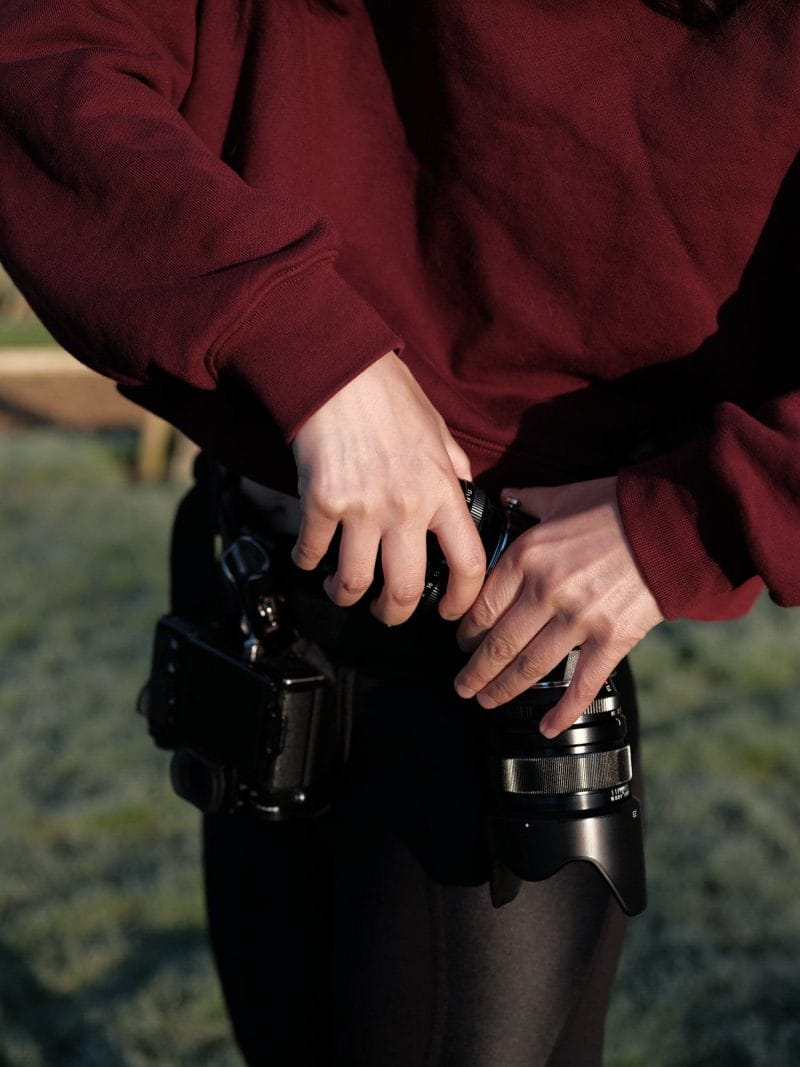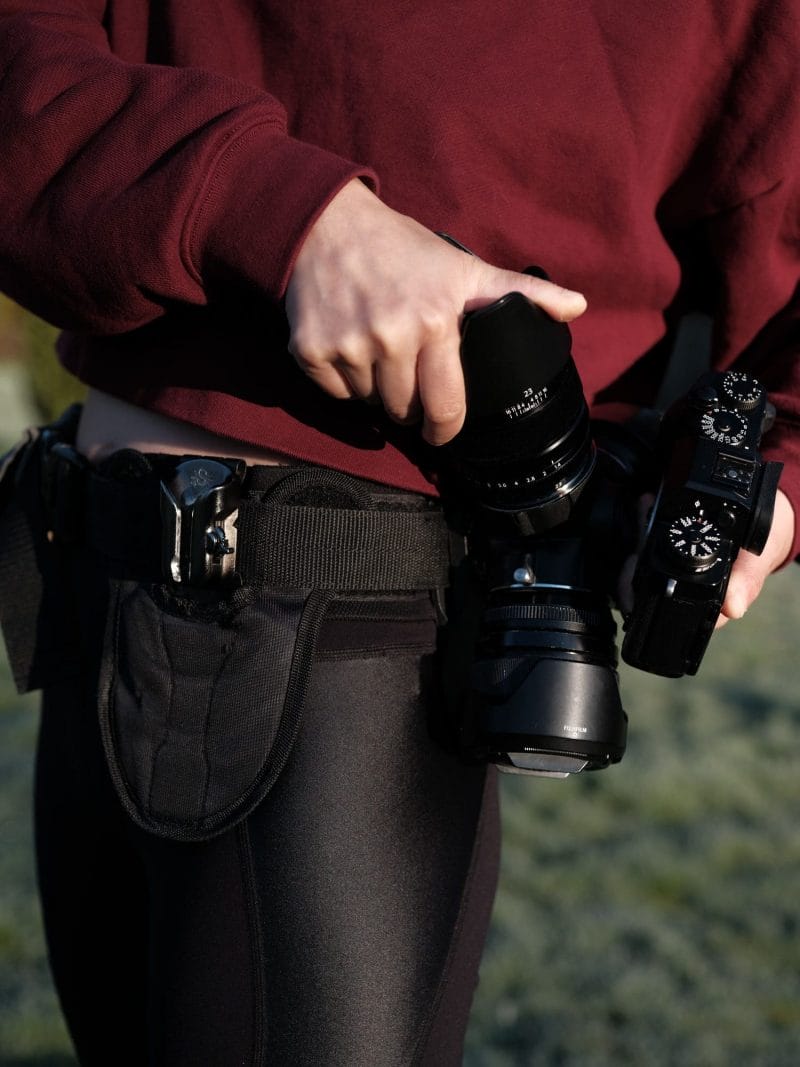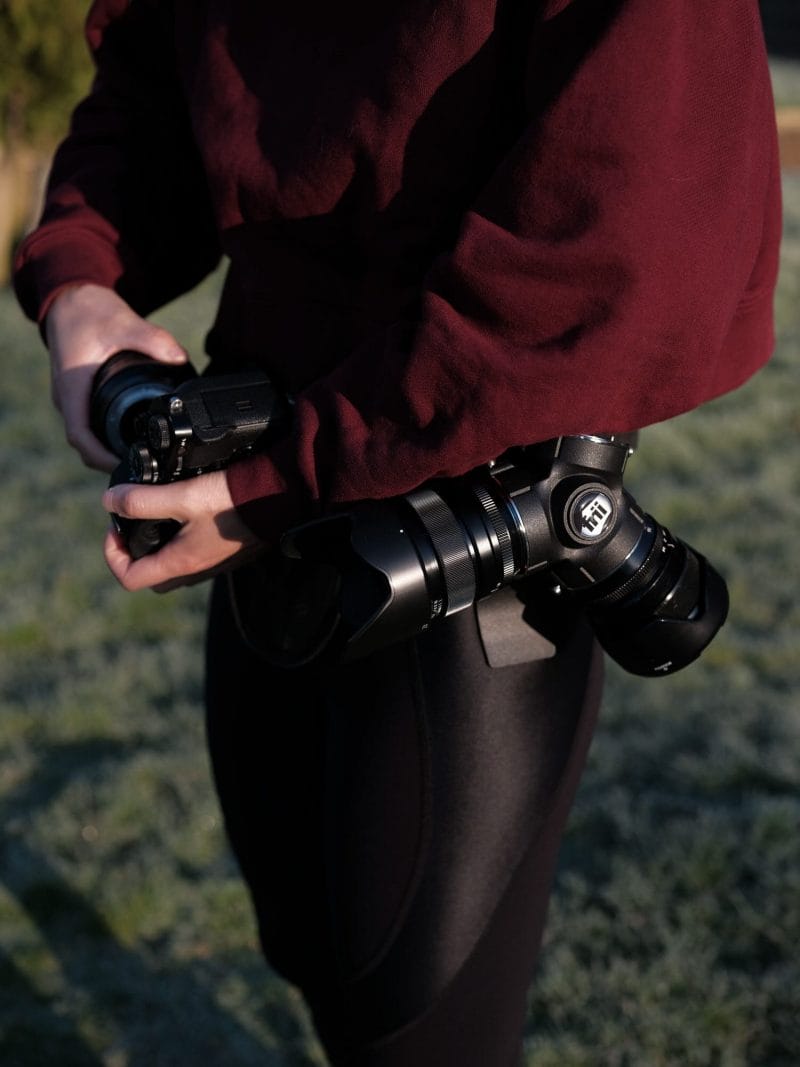 All in all it's a fab, sturdy made product that can solve a lot of the issues facing wedding photographers who switch their lenses up! After all, we don't have the luxury of huge pockets in our wedding day formal wear! You can buy it from their website which has worldwide shipping, please note that this is for the FX mount so it takes whatever you're shooting on your Fujifilm X-T3, but don't get it for your GFX kit!
I'll update this review if I have any new insight when I've taken it out for several long weddings, I think the main thing I'd like to suss out is whether the plate supporting it's weight will give me a wee bruise, but I'm fairly used to the weight of the cameras bumping all around my mid region already so I'll be surprised if it presents any issues!