Outdoor destination wedding
This wonderfully outdoorsy couple found me from Rangefinder Magazine's 30 Rising Stars Award and I was de-fucking-lighted to come and shoot their destination wedding in the Adirondack mountains at Forest Lake Camp! The bride told me they were planning to take over an American Summer Camp in winter, doing a lot of the DIY themselves with friends and family help to create an Autumnal rustic mountain wedding. They stayed there in advance, decorating the space with greenery, warm flowers and funky shaped squash! We went to rehearse their destination wedding ceremony which was on a look out spot in the Adirondacks and the guests arrived to an informal evening BBQ and campfire. It was the best braised beef I've ever had in my life!!
Camp Wedding Ceremony
On the main wedding day, the bride and groom got ready in separate chalets, it was super cold, probably the coldest wedding I've ever shot! The bride wore an elegant simple silk dress with a warm wrap and gave her bridesmaids custom drinks coolers, the groom wore a blue suit and gave his groomsmen hatchet axes as gifts.
They had a first look in a beautiful spot in the forest area before hiking up to the ceremony spot
Their guests sat around wooden log benches amongst the landscape, whilst two of their friends, another couple, conducted the personal ceremony where they exchanged personalised vows
After the ceremony we took a few couple shots whilst the guests went back to the camp to have a ham sandwich lunch! Then the couple went to get changed into casual clothes to prepare for the day of games! They played highly competitive team relays which included canoeing, dizzy bat and cornhole, and friends and family lounged in the sun by the lake, went for swims, played volleyball, boules and archery!
After the games interlude, everyone came back into the camp headquarters for the dinner, seated on long bench trestle tables. The camp has a tradition where every couple who gets married there gets their name up on the wall on a plaque and they give out big hands to people who were awesome across the day, with a big shout out to the brave guest who jumped into the freezing lake!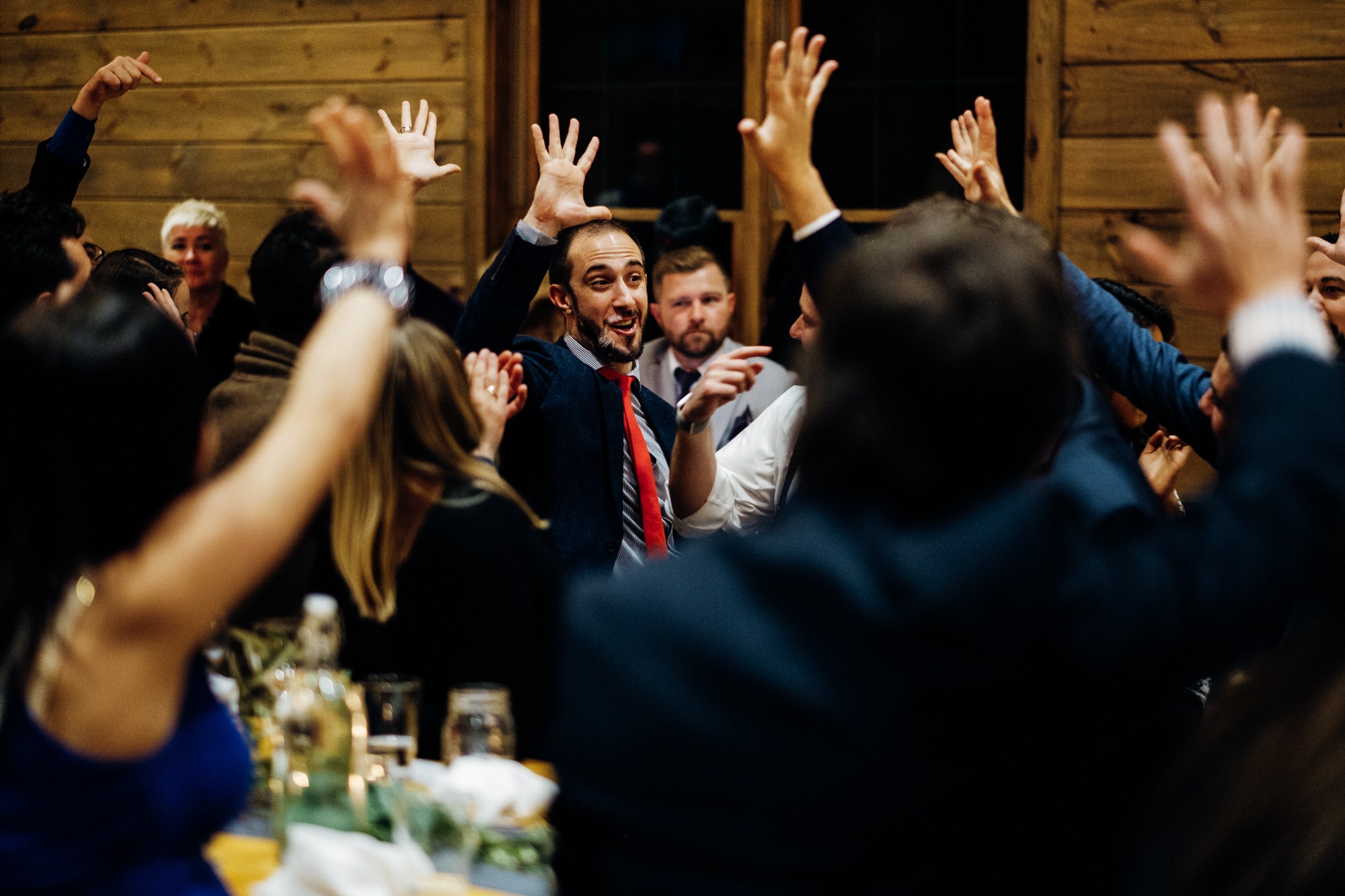 After dinner they hit the dancefloor before seeing the wedding out with a second night of s'mores and stories around the campfire