As an alternative London wedding photographer I often find myself shooting at the popular London registry offices and their low key venues nearby. So I've decided to help out couples planning their relaxed London weddings by showing you the venue options near each of the most popular registry offices! So if you're having a...
Islington Town Hall wedding ceremony
I'm a listed supplier at Islington Town Hall and they're popular because they have both small rooms for wedding ceremonies like the Mayor's Office, and also the main large council chamber which can hold I believe over 100 people including seats in a top balcony overlooking the round room.
So if you're getting married there some options for you are:
Frederick's is a modern restaurant serving great food and wine that can hold a surprisingly large number of guests in their glass greenhouse space, with an outdoor garden section and 4 indoor spaces
This is a fantastic venue that I've used multiple times for both shoots and my own wedding photography workshops. It's the event space attached to a live music venue, the staff are fabulously on it, it's a colourful cool looking space that doesn't even need too much decor as it already contains a tube carriage for a bar atop with a skull and you can also ask the venue staff to decorate it with some of the working metal yard props
This is a really popular punky pub where you hire the whole space, they do fab food and they have an upstairs space for the dinner with the dancing taking place downstairs
This is a more modern space with a lot of iron and concrete. It works best as a party space but I've seen them host wedding dinners for smaller wedding sizes
The Zetter Townhouse // 1.5 miles
The Zetter Townhouse is a really quirky decorated hotel with private dining rooms right next door to the Artisan of Clerkenwell, so it's possible to split your reception across the two!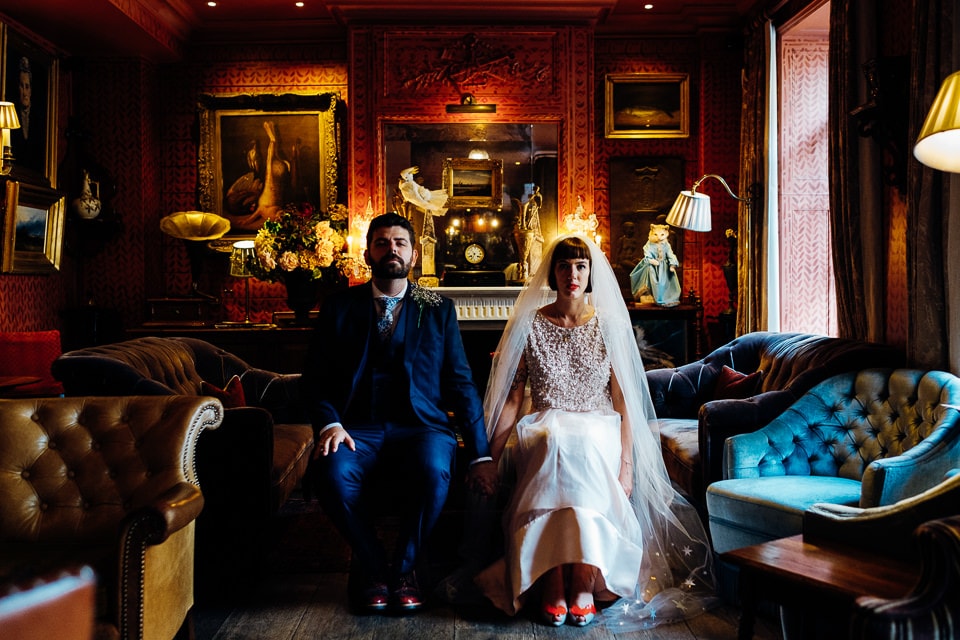 The Depot is a fab wooden and brick industrial style venue with an outdoor courtyard decorated with fairy lights. It's open plan and sits across two levels around a large round bar.
The Singer Tavern is a beautiful restaurant with wooden floors, stunning natural light through the restaurant windows, and a downstairs bar which retains some of the original charm of the Singer Sewing machine shop
The Stoke Newington Town Hall is another popular registry office because it can also hold a lot of guests. It's a very warm wooden ceremony space with a balcony.
Abney Public Hall is a large urban white walled village hall style venue very close to Stoke Newington Town Hall that can fit long trestle tables for large wedding receptions.
Clissold House is very unique in the sense that the rooms are a light sweet pastel colour, it holds a small number of guests and is situated in the stunning Clissold Park where it's easy to take your group and couple photos when the weather is nice
The Londesborough pub is within walking distance from Stoke Newington Town Hall and is a cool red walled punky pub that is also owned by same team who run The Peasant. It has a very similar vibe- nice food, a cool modern pub

If you're a Londoner who prefers a bit of an outdoors vibe, the Woodberry Wetlands is a small venue with one room and an outdoor marquee attached to the side
The Round Chapel is a fab historical venue in a big open plan horse shoe shape that's one large room with a gorgeous church organ back drop. You can have both the ceremony and reception here whilst going outside as they change the room over.
The Village Underground is a very quirky East London venue that is very large with high ceilings, brick work and it's used to hosting music gigs. It is nearby a lot of the Shoreditch graffiti, and sits under the famous two tube carriages
I hope this helps you plan your London wedding!